What's Good: Oct. 1, 2021
Sanctions, new worlds, and nothing beside remains.
Hello, good evening, happy Friday. It is officially my birthday month - I turn 28 three weeks from today - so you all have to be nice to me now. And by "you all have to be nice to me now," I mean "please don't get mad at me for not having the energy to stream last week after saying I would," I have had a lot going on lately.
However! While last weekend was the first of this round of Halo Infinite beta testing, it was not the one really worth getting excited about, anyway. That's this weekend, because Big Team Battle is live, and BTB is the highest and best "normal" use of the Halo sandbox. (The actual highest and best use is Mongoose racing, but that's a whole additional discussion.) So, please redirect your hype energy from last weekend to this weekend, I will try to stream tomorrow.
Some wild shit has happened today though and now I can include it in the newsletter, so that is an upside.
---
One-two punch
As you may know, I often like to start this newsletter with some good news:
Infowars host Alex Jones has lost two of several lawsuits filed against him by relatives of Sandy Hook victims after he routinely failed to comply with requests to produce documents related to his involvement in spreading lies about the deadly shooting.

Judge Maya Guerra Gamble on Monday issued her ruling for default judgments against Jones in two different cases, which means he and the conspiracy-theory-spewing outlet Infowars have been found liable for all damages and a jury will now be convened to determine how much he will owe the plaintiffs. The new rulings became public Thursday.

In the filings, Gamble eviscerated Jones and reasoned that default judgments should be ordered because "an escalating series of judicial admonishments, monetary penalties, and non-dispositive sanctions have all been ineffective at deterring the abuse," caused by Jones' unwillingness to turn over documents related to the cases, the Texas judge ruled.

The ruling — which is often referred to in Texas as a "death penalty sanction" for a party unwilling to comply with court orders — is a rarity in the legal world. Jones, who is now on his seventh lawyer in these cases, had years to provide documentation requested by the court, including internal company emails.
Yeah. Just inject that shit directly into my veins.
---
Look upon my works ye mighty and despair
Have you heard about Ozy Media yet? If you haven't, you will. Let's start with some securities fraud:
This past winter, Goldman Sachs was closing in on a $40 million investment in Ozy, a digital media company founded in 2013, and there seemed to be a lot of reasons to do the deal. Ozy boasted of a large audience for its general interest website, its newsletters and its videos, and the company had a charismatic chief executive, Carlos Watson, a onetime cable news anchor who had worked at Goldman Sachs early in his career. And, crucially, Ozy said it had a great relationship with YouTube, where many of its videos attracted more than a million views.

That's what the Zoom videoconference on Feb. 2 that Ozy arranged between the Goldman Sachs asset management division and YouTube was supposed to be about. The scheduled participants included Alex Piper, the head of unscripted programming for YouTube Originals. He was running late and apologized to the Goldman Sachs team, saying he'd had trouble logging onto Zoom, and he suggested that the meeting be moved to a conference call, according to four people who were briefed on the meeting, all of whom spoke on the condition of anonymity to reveal details of a private discussion.
And follow it with some classic old-fashioned abusive workplace stories:
Around midnight one Saturday late last year, Eva Rodriguez, 24, had trouble breathing. She lost her vision, started sweating and felt a sharp pain in her stomach. She worried she was having a heart attack.

For two weeks leading up to that night, Rodriguez said recently, she had been working roughly 18 hours a day every day to create the branding for "The Carlos Watson Show," a talk show named for and hosted by the CEO of Ozy Media. As a creative director at Ozy, for which she'd worked since 2017, she was used to working long hours to accomplish difficult tasks with little lead time. But this was worse.
And the denouement, with an appropriate reaction from friend of the newsletter Mike Isaac:
I have read a lot about Ozy this week, but I still could not really tell you what the fuck was going on at that company that allowed it to get to this point. I look forward to the grand tell-all tales that will come from this implosion, and I will follow-up with you about them in the weeks to come. In the meantime, here's Axios.
---
City of delusion
Havana Syndrome is a name for something that probably doesn't exist:
Noises linked to mysterious injuries among US diplomats in Cuba were most likely caused by crickets — not microwave weapons — according to a declassified scientific review commissioned by the US State Department and obtained by BuzzFeed News.

The State Department report was written by the JASON advisory group, an elite scientific board that has reviewed US national security concerns since the Cold War. It was completed in November of 2018, two years after dozens of US diplomats in Cuba and their families reported hearing buzzing noises and then experiencing puzzling neurological injuries, including pain, vertigo, and difficulty concentrating.
---
Conflict brewing
I feel a lot better about my general anti-Goose Island position after reading this:
Like many union drives, workers at Goose Island Beer Co. began organizing quietly, in spring 2019.

For months, a core of employees leading the effort at Chicago's oldest brewery met covertly with colleagues — coffee shops in the morning and bars at night, with full workdays in between — offering visions of a more equitable workplace.

By early 2020, as many as 75% of Goose Island's approximately 125 employees eligible to join a union expressed support, organizers said in interviews with the Chicago Tribune. Months of toil seemed poised to succeed.

But then, weeks before taking the union drive public, organizers ran into a pair of buzz saws. First, management learned of the plan and responded with what several organizers believe was an aggressive and occasionally intimidating effort to thwart unionization.

Weeks later came the second hurdle: the COVID-19 pandemic. With all but essential production employees furloughed or shifted to working from home, momentum waned.

Finally, on June 2, 2020, citing a downturn due to the pandemic, Goose Island laid off what union organizers estimate to be at least 20 employees. Among those sent packing were several vocal union advocates, including the three core organizers.
This is horseshit and you can bet your ass I'm going to be telling this story at every opportunity.
---
Horse paste consequences
It turns out that all of the delusional people taking horse dewormer paste instead of getting the vaccine are - surprise! - creating unintended consequences:
Emerson Animal Hospital was down to its last 10 milliliters of ivermectin.

For months, the veterinary center in West Point, Miss., had watched its supplies of the drug dwindle. Dr. Karen Emerson, the veterinarian who owns the hospital, started the year with one 500-milliliter bottle of ivermectin, which she uses to kill parasites in dogs, chickens and other patients. But as the bottle emptied and her staff tried to find more, they were able to obtain only a 50-milliliter vial. Everyone else told them: None available.

So Dr. Emerson began rationing the medicine to give to snakes and other exotic animals for which she had no other deworming treatment. She told dog owners to pay for a more available replacement drug that can cost seven times as much.

Dr. Emerson was surprised by ivermectin's scarcity because it had always been plentiful. But she put two and two together after people started streaming into her clinic to ask about using the drug to treat Covid-19.
---
Trouble in paradise
It is well-documented in this newsletter that I am not a fan of Lori Lightfoot, but this story takes her poor governance to soaring new heights:
Mayor Lori Lightfoot forced her top attorney's resignation late last year amid an uproar over her administration's handling of the wrongful police raid on Anjanette Young's home. Now Lightfoot and the attorney are in a heated dispute over whether she agreed later to give him city business, records obtained by the Tribune show.

In short: He claims the Lightfoot administration reached out to give him city business at his new law firm, without objection from the mayor. She claims that isn't true.
---
What's in a name
This story is, more than anything, profoundly sad:
One morning in March, 2020, Diana Berrent, a photographer and a mother of two from Long Island, woke up with a fever. She had chills, diarrhea, and a heaviness in her chest, and grew concerned. Her daughter was hosting a sleepover; Berrent made her way to the basement and asked the other girls to leave. Then she went into isolation for eighteen days.

…

There is little doubt among researchers that long covid exists. But the syndrome is new, and lives for the moment in the realm of theory and anecdote. Amid an always online pandemic, the condition is also the subject of constant conjecture. Doctors, scientists, and patients are sharing their opinions freely, along with everyone else. Berrent, too, is trying to make sense of it all.

…

As a physician wading into the world of patient advocacy, I couldn't help but face the fact that I was part of the medical establishment—the group at which so much resentment is directed. I came away feeling that medicine would be kinder and more effective if patients had a stronger presence, not just as trial subjects or people in need of care but as authentic partners in the project of improving the human condition. Still, I winced whenever someone mentioned vitamins or ivermectin as a remedy for covid, or touted online anecdotes over peer-reviewed studies, or assailed the good intentions of doctors and nurses. I wondered whether the covid-survivors movement harbored the same anti-élite sentiment running through much of the country—a distrust of institutions and a disregard for expertise.

If this is the case, it is partly because of the long-standing failure of health-care institutions to meet the needs of people who are suffering. Doctors have often dismissed and minimized patients' concerns, and others have profited from overdiagnosis. If the edifice of medicine stands on a fault line—one of distrust between doctors and patients, hospitals and communities—then covid-19 is an earthquake. We're all responsible for holding the structure together.
This is a reckoning that we have not yet fully grasped.
---
Geough Bidniss
Here is a story in a paper owned by Jeff Bezos about how you can't name your character Jeff Bezos in a game produced by a studio owned by Jeff Bezos:
After a series of false starts and a pair of eye-opening reports about dysfunctional studio culture, Amazon Game Studios finally appears to have a hit on its hands in "New World," a Massively Multiplayer Online Role-Playing Game whose fantastical world draws on colonial America — rather than J.R.R. Tolkien — for aesthetic inspiration. Now that the game is out, players are working overtime to probe its depths, which has resulted in a disappointing discovery: They can't name themselves "Jeff Bezos."

At "New World's" character creation screen, naming yourself "Jeff Bezos," Amazon's founder, produces a brief message: "This name cannot be used." As PC gaming publication Rock Paper Shotgun discovered, numerous variations like "Jeffrey B. Zos," "Jeff Bezoos" and "Jeff Bezozs" are also not allowed (Jeff Bezos — as opposed to Jeffrey B. Zos, Jeff Bezoos and Jeff Bezozs — also owns The Washington Post). "Amazon" is blocked as well, as is the name of its current CEO, Andy Jassy. All the other names currently listed on Amazon's officers and directors page, as well as names of prominent current employees such as former White House press secretary Jay Carney, are not filtered.
Perhaps Geough Bidniss should google "Streisand effect." My guess is this kind of attempted censorship will only drive additional efforts by players to skirt the filter.
---
You deserve some good animal content
Wild Bison Herd Thriving at Kankakee Sands in Northwest Indiana! 😁 𝐑𝐄𝐀𝐃 𝐌𝐎𝐑𝐄:
bit.ly/3eZU9Y8
#VisitIndiana
#Indiana
#Bison
@SouthShoreCVA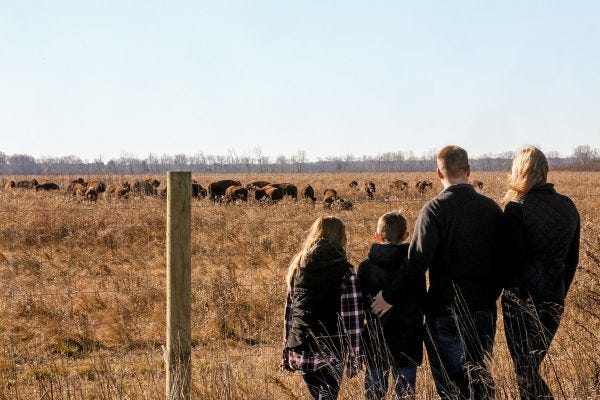 ---
Have a good weekend.
---
Addendums
Trump donor: Corey Lewandowski made unwanted sexual advances. YouTube Removes Legendary Meme Video After 14 Years for 'Violence'. Shakira says wild boars in Barcelona attacked her and stole her purse.1 Why Are Moderates Trying to Blow Up Biden's Centrist Economic Plan? We Wanted to Split Up. OkCupid Had Other Ideas. We reviewed 36 NDAs from major tech companies and discovered how far Silicon Valley's giants will go to silence and control their employees.
1
WHO WILL PROTECT MY SHAKIRA FROM 30 TO 50 WILD BOARS IN 3 TO 5 MINUTES?!